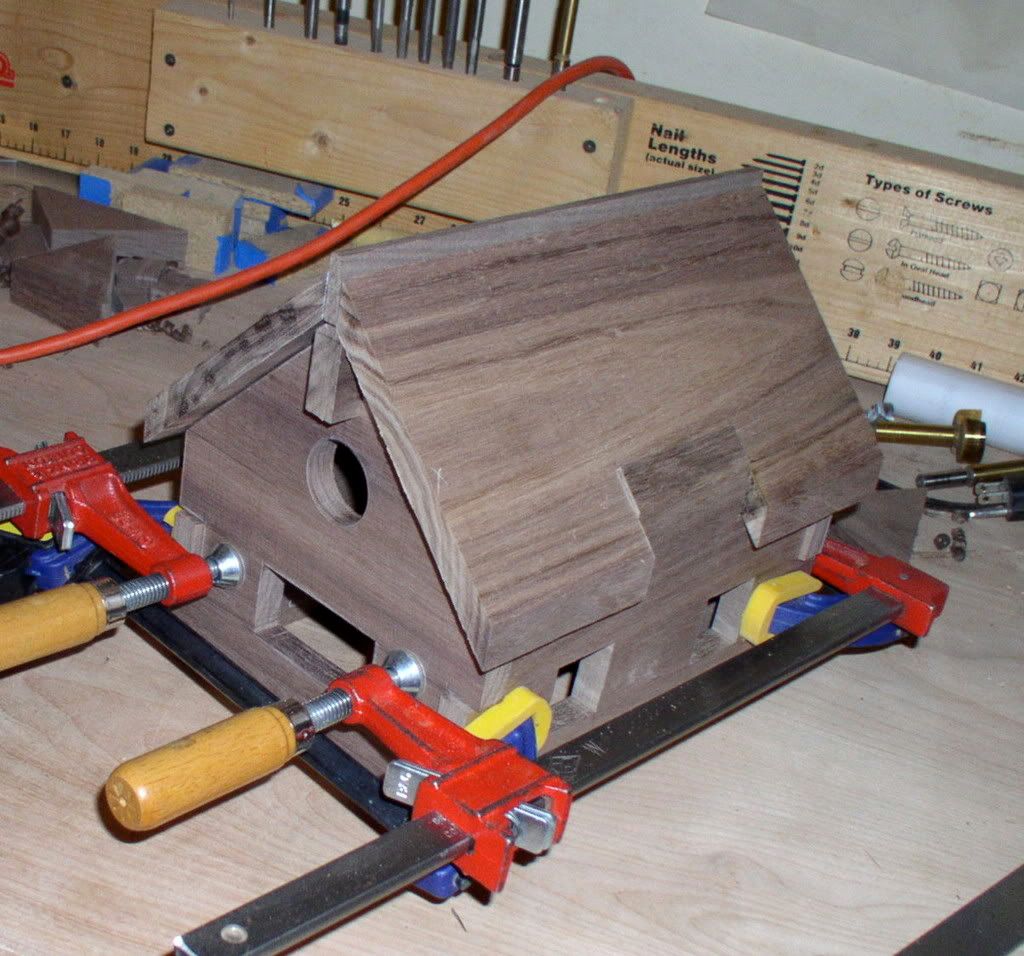 The ridge beam has been beveled. I actually had to cut a new one when I got over-zealous on one and cut it at the wrong angle. And the tabs have been cut on the walls. This was the first time I cut anything with the scroll saw table at an angle. It took some getting used to. One thing I discovered is that I had to shift how the blade was set into the lower carrier because the knob was bumping into the table. Adjusting it wasn't a problem, it just wasn't something I'd anticipated.

You'll notice an extra piece sticking up in the middle of the roof. When I finally got the tab cut on the wall and fitted the roof there was an almost 1/4 inch wide gap at the top of the peak on one of the houses (I'm making 2). My options were to put filler at the junction of the roof and the wall or at the top. I decided to do this one at the top. Since this picture was taken the filler has been beveled to match the angle of the roof.



I'm going to set the houses into a cut out in a piece of 1/4 inch plywood which will be glued to a piece of 3/4 inch plywood. I don't think I'll glue it in there to make storage easier, but I'm not completely settled on that. This is a view of the left side when set into the plywood. I decided I liked the look of the house set at an angle to the edges of the ply.


And here's the right side.
Now that this is done I need to trim the doors. (With the house set into the base the door is taller than the opening.) Then it's on to accessories - trees, window trim, wooden candy... And sanding. Lots and lots of sanding.
Less than 2 weeks to biscotti weekend.